The Road To Bethlehem - Part B​
No Room At The Inn​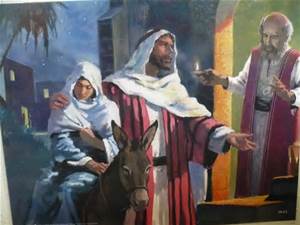 To paraphrase St. John 1:5 'The Light always shone in the earthly self's darkness of ignorance for the simple reason that for a very long time our lower self could not yet comprehend it.' On and on the earthly self must plod on the exceedingly steep road to Bethlehem and many people at all times are also treading it. That is the only way it can be experienced what an existence without spiritual support and sustenance feels like. For as long as we remain in this darkened condition, when someone tries to tell us about anything related with the theme of God, we may just laugh into the other's face and declare all of it to be a load of humbug and pretty stories for people who are a bit soft in the head, to put it mildly. When this happens, the spirit is knocking at the door of such a person's consciousness, but cannot yet gain entry because the time for doing so has not yet come for this particular child of the Earth. That is the symbolism behind 'No Room At The Inn'.
For every one of us there eventually comes the moment when the Christ Spirit in its early stages of development begins to stir from its slumbers and wants to be born in our heart. But if the time for this to happen has not yet come, at least for the moment, there is no room for it with us. And so, ever further we have to march on this lonely and comfortless road, alone with all our fears and anxieties about the future and in particular death, our own and that of our loved ones, sinking deeper and deeper into the mire of depression, sadly unaware that in truth we are never on our own.
But even while this fact and our true nature are still unknown to us, our climb up the spiritual mountain continues at a steady pace. In total and unconditional love and silence the Angels and Masters, friends and helpers, our good and kindly shepherds in the world of light, stand closely by. They take care of all our needs and keep watch, but they do not interfere with anyone's progress, as each one of us has to do their own work because this is the only way our earthly lessons can truly be absorbed into our consciousness. But eventually for all of us together, earthly and Heavenly beings alike, there comes the glorious moment when yet another one of us awakens. Slumbering time is over and once more we become aware of who and what we truly are, where we have come from and what our final destiny is.
I have been there and know from first hand experience what a dark and threatening existence living without faith and hope is. It was my life's way of teaching me what the road to Bethlehem means and what a long and winding pathway it is. It feels good beyond compare when the spark of the Divine, our own inner Christ child, has at last come alive and is born in the most humble place on Earth, the cave of our heart, and we realise that although we are still an earthly being, we are also a child of God, just like the Jesus legend tells us about the Master's life.
In awe and wonder we then stand before ourselves and the discovery that it was the loving union of the Great White Spirit, Father/Mother of all life, our true parents, who once created all His/Her children – including you and me –on the highest levels of being. Therefore, the conception of each new Christ child is indeed an immaculate one, because it takes place untouched by any earthly things, thoughts, ideas and feelings. These parents have always looked after and cared for each one of their earthly offspring. Through all our journeying and wandering, lifetime after lifetime, with much tenderness and infinite love, their wisdom has always been lighting every human child of the Earth's path. This will forever continue, to ensure that each one of us in the end finds its way safely home and that for all God's children of the Earth in the end the road to Bethlehem turns into a joyful one.
This happens each time when someone's inner miracle of birth takes place, their Christ spirit comes alive and its characteristics begin to motivate that person and runs their life for them. This is the long awaited rebirth and we have every reason to be thankful and celebrate. Our heart fills with gladness, love and gratitude. The road up the mountain becomes easier and the cross of our earthly existence grows lighter, because we know that our dream and final goal, the re-union with the Godhead, is turning into a reality and we have arrived in Bethlehem.
Sure enough, the road that leads us to it has many twists and turns. This is because each one of us can only learn from their own experiences, but you can rely on it that everybody gets where we are meant to go in the end. And all the while the Angels walk with us, to ensure that nobody will ever be forgotten, left behind or truly lost. To help us grow strong and ever more Heaven-tall, they constantly accompany us, but they only step in when someone actually calls for their help. Their support is then felt more strongly and may manifest itself in many different ways. The object of their holding back is to bring forth everybody's own inner strength and the determination to succeed against all obstacles.
The first phase of our development, to give you but one example, takes us through experiencing to the fullest humankind's masculine aggression with is lust for power over and control of others, trouble, strife and possessiveness, warmongering and earthly and spiritual empire building. All of these characteristics are the early earthly human expressions of our Creator's masculine energies, the God. As the history of our world over the past six thousand years or so shows, when these energies are left to their own devices and allowed to go on the rampage almost without restrictions, they have little to give to our world other than suffering and pain. The masculine needs to be balanced by the nurturing, caring, life-giving and protecting energies of its feminine counterpart, the Goddess. Both these energies are also in equal measure in each one of us earthlings. Our task is to learn to control and master them, so they can be used in positive and creative ways for the highest good of all.
That is why the next stage of our earthly education, many lifetimes later, moves us to the receiving end of the masculine aspect of our nature. Only when our Karma has sufficiently returned the result of what we planted during the first stage and we had our fill of experiencing in our own lives the fear, pain and suffering we once caused others, are we allowed to move on to the third and final chapter of our very own and personal odyssey. It guides us into the calmer waters of getting to know the value of peace and peacemaking.
All of these things are essential parts of everybody's road to Bethlehem, because this is the only way that anyone can acquire the wisdom and understanding that is needed for the building of a happier existence on the Earth plane for all its lifeforms. For this purpose, at a certain point in our development, our Highest Self guides us away from the role of being a religious fanatic with a blinkered vision that cannot yet peer beyond the end of their nose and the boundaries of their chosen religion or the one they were born into, believing it to be the one and only holy making one. We will then be helped to develop an ever deeper appreciation of all the belief systems of our world that is based on the understanding that none of them were ever intended to represent an end in itself.
From its first appearance each one has merely provided humankind with another pathway up the spiritual mountain, which in the fullness of time would become obsolete and disappear. More and more of us are by now following the guidance of our Highest or Christ Self, the living God within, because this is the only authority in the whole of Creation who can reliably tell us the truth about anything we care to ask. Because we prefer to be taught in this way to any other, what is left of the religions our world will gradually fade away quite naturally. As each new religion that appeared in our world provided our race with yet another only too welcome excuse for bashing each other's heads in, with fading away of the religions the warmongering will also die a natural death.
In due course each one of us will reach the point when we happily and freely give of our highest and best and share it with those who are walking behind us. Every time we do this we are kneeling before and worshipping the newly born King in our own heart, so it can also be born in the hearts of others. Whenever we give of our finest treasures and place them on the altar of life without discrimination against anyone, doing everything that is in our power to alleviate the suffering of our world, we are walking hand in hand with God and the Angels and fulfilling the highest potential of humankind's earthly existence.
And when under their guidance we do our share of blessing and healing all of humankind, our whole world and every other plane of life, the Shining ones in charge of us rejoice. They are smiling because another one of us has reached Bethlehem and on the way there has evolved into one of the saviours and redeemers of our world. They know that therefore all is well with us and our world.